GOKAIGER vs GOSEIGER... AND EVERYONE ELSE!
The
Gokaiger
team will be back on the big screen, sharing spotlight with last year's
Goseiger
yet again. Except this time, every other
Sentai
in the franchise's history is joining in on the party. Considering the full Goseiger cast is making an appearance here, and are a focal point for the story, I would assume that this is taking the place of the standard annual team-up movie. Which normally features the two most recent teams alone. That would explain the increased running time. Not only do you get two full casts, but the added bonus of close to 200 heroes running around in-suit.
What would a team-up be without the random cosplay? Whether it's dudes dressing up as chicks, or chicks in Santa hats, it's been a continuous motif through the years. This time, the scrappy yellow girls are in Edo period outfits. Just because.
Goseiger apparently still has its powers, despite Gokaiger series continuity seeming to contradict this. Maybe the scene above will explain this. Evidently, they're trying to steal some keys from the pirates. Not very angelic, Alata!
Oh snap! Blajira returns as a Kamen Rider!
And he's brought a friend with him back from the afterlife!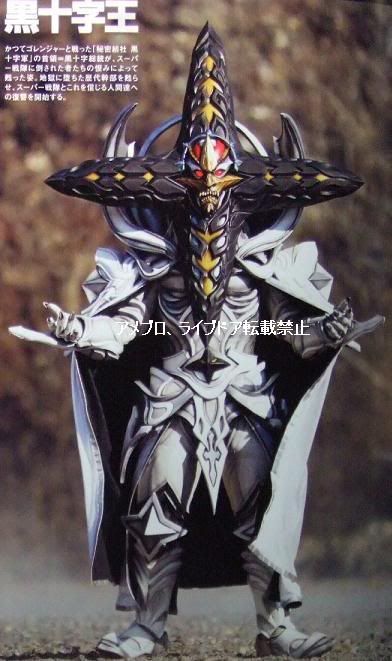 A blast from the past. It's Black Cross Fuhrer... Yeah... Fuhrer... Gotta love the awkward old school villain names.
Captain Marvelous and Alata seem so totally different from each other, just as Alata was with ShinkenRed. I can't help but laugh at just the idea of them interacting. So much potential for inappropriate comedy.
Aaaand the space-bikini foot soldiers are back again. Joy.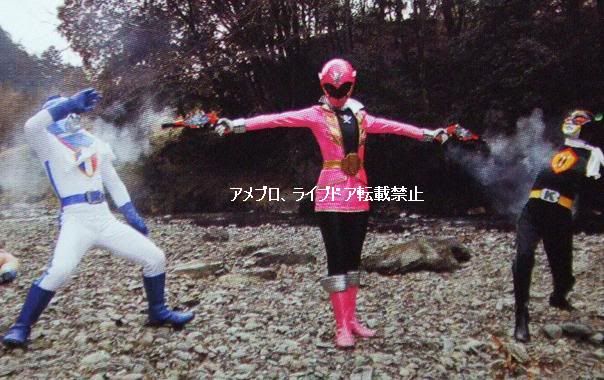 Holy shit, Aim, WHY ARE YOU SHOOTING YOUR SEMPAI-TACHI?!?!?!?!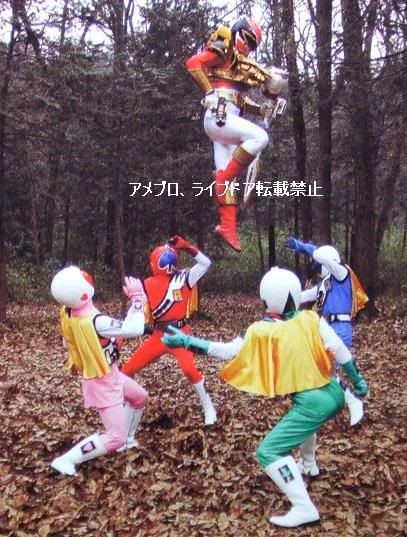 OH GOD, WHAT'S HAPPENING? IS THIS REAL LIFE?!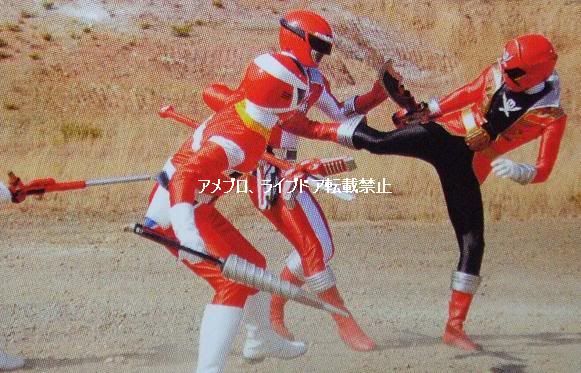 Obviously, the elder heroes have some serious beef with the new guys. What could make the various Sentai teams attack each other?
Bizarro team super-cannon.

Nice.
A huge number of heroes from the franchise's history had been absent from a lot of the promotional materials for Gokaiger, and some were wondering if they would show up at all. This image pretty much answers that question.
Well... Technically, there's about 9237492 other characters that fans could probably come up with which have not been included yet, but these are the ones that left the biggest impact. It's great to see "GekiGreen" (Mele) and "GekiBlack" (Lio) there, since they were given those titles toward the end of their series.
I think the inclusion of the more exotic heroes of the franchise has got me more excited for this than anything else. Of course, it'll probably only take up about twelve seconds of the movie. But it'll be a BADASS twelve seconds. And I have a feeling the rest of the movie will be nothing to sneeze at either.
(via:
HJU
)