CONFIRMED: 4KIDS VENTS KAMEN RIDER DRAGON KNIGHT
This was recently posted from
"Kamen Rider Dragon Knight"
Co-Executive Producer Steve Wang not too long ago, which pretty much tells us flat out that the show has been canceled, just a few weeks before the series finale.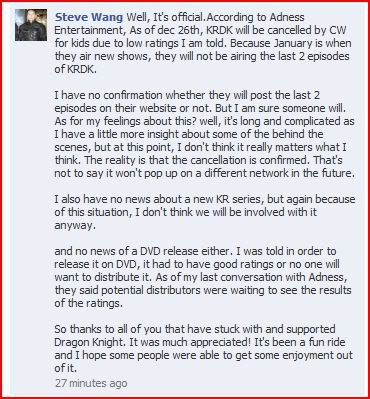 To say that I'm disappointed would be an understatement. I don't think KRDK was the best show ever, but I still cared about the show, wanted it to succeed, and to make way for future projects of similar interest. Whatever we think about the show, it must be understood that its cancellation just makes it that much harder for something in the same vein to be produced later on. And that's just sad.
Especially now that new Power Rangers has essentially been canceled itself, replaced by "remastered" reruns from the early 1990's. And as much as some fans are excited by this, what it means for the fandom is that there's pretty much nothing completely new in the near future for us. Nothing at all. Not for the same market, at least. It's the first time we've been able to say that in... I can't even remember how long it's been.
Whether we've loved the last few years of Power Rangers and Dragon Knight, they were the two main American tokusatsu titles that you could look to for this type of entertainment. They were there for fans to love, or hate, and express their opinion about either way. And I realize that Dragon Knight was about to end anyway, but the fact that it was (potentially) removed from its time slot before we could get to that point just reduces the likelyhood of a follow-up project, and that's bad for pretty much any fan, whether you enjoyed Dragon Knight or not.
Now, when I watch the last few episodes of Dragon Knight available to me (however I end up seeing them) I'm watching it from an entirely different perspective than I would have about an hour before posting this. I'm watching the potential last few episodes there could ever be of an American Kamen Rider franchise that never was.
It's just depressing.